This site is hosted by Yahoo! Store. Yahoo! hosts the store pages, ordering system, and order data. Yahoo! automatically collects order information but may only use this information in the aggregate. If you accessed this store through Yahoo! Shopping, Yahoo! also automatically collects information about your shopping experience. Please see the Yahoo! Privacy Policy for more information about how Yahoo! uses this information.
National Sew Machine Store Policies
Low Price Guarantee.
100% Customer Satisfaction Guarantee .
Accepted Forms of Payment .
Sales Tax.
Order Processing and Shipping.
Freight Shipping Policy.
Return Policy.
Privacy Policy.
Low Price Guarantee:
Shop With confidence! We guarantee our price on all the products that we sell and we will match any advertised price from any website, magazine or local store (No Auctions). If you find any advertised price on the same day of your purchase simply email or fax us a copy of the advertisement and we will match that price. All items must be brand new with complete manufacturers warranty. The item must be sold by an authorized retailer or retailer of the specific brand. You must show us the advertised price within 5 business days of your purchase. top.
100% Customer Satisfaction Guarantee:
Your satisfaction is our top priority. We at Nationalsew.com are committed to providing you with the best on-line shopping experience in the business. top.
Accepted Forms of Payment
We accept Visa, MasterCard, American Express, Discover cards, Home Source Financing, cashier's check, purchase orders. top.
Sales Tax
Sales tax at the rate of 9.0% is applied to all orders being shipped to a California address. Orders shipped to addresses outside the state of California are not charged sales tax. top.
Order Processing and Shipping:
We will ship to locations within the United States and Canada. We do not ship to any other country at this time.
Within the continental United States (the contiguous 48 states), shipping is FREE to the customer on orders over $200.00. Orders being shipped to Hawaii, Alaska, and Canada are not eligible for free shipping. Shipping rates may be calculated by clicking the Checkout button in the shopping cart.
Free shipping does NOT apply to any item that requires freight ground delivery. On all orders that require freight ground delivery, we will immediately contact you by phone to give you the freight charges.Click here for freight shipping policies.
We ship most orders via UPS Ground. Items that are shipped directly from the manufacturer will be shipped using the manufacturer's preferred method (either UPS or FedEx). Packages that weigh less than 1 pound are shipped via USPS Priority Mail. On orders that include free shipping, we reserve the right to choose the carrier of our choice to accommodate the most efficient method of getting the product to you.
Shipping charges in the shopping cart are approximate UPS rates.
Please keep in mind that UPS and FedEx do not ship to P.O.Boxes. Do not provide a P.O.Box as your shipping address if the merchandise will not be shipped via USPS. (Additionally, providing a P.O. Box as your shipping address will not cause us to ship via USPS for you. If you have experience with UPS delivering to your P.O. Box, please call us and we'll make the exception; however, if the package gets denied and rerouted, you will be charged all applicable shipping costs.)
All orders will be processed within 1-2 business days. Orders placed on weekdays before 2pm Pacific time will usually be shipped the same day. Orders placed on Friday after 3pm, Saturday, or Sunday are processed on Monday. Processing and shipping does not take place on weekends or holidays.
Regarding expedited shipping: Expedited shipping is effective based on when the item is sent out, not from the time the order is placed. If we have an item in stock, we can generally have it sent out the same day we receive an order or on the following day. Items that must be special-ordered or drop-shipped by the manufacturer cannot be sent through an expedited method.
UPS transit times are approximated on the map below, and measured in business days (Monday through Friday):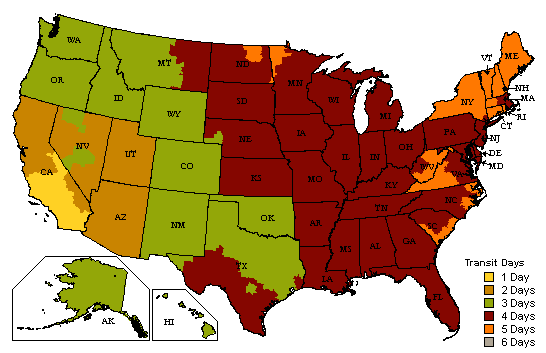 Any customer that refuses their package will be charged the original shipping cost, plus the cost of shipping to have the item returned back to us.
top.
Freight Shipping Policy:
Assembled industrial machines with table and assembled sewing furniture will ship via freight truck line, NOT UPS or FedEx. Freight delivery cannot be expedited and does not apply for free shipping. Freight shipping charges are generally in the range of $150-250, depending on your location and type of delivery address. (No shipping method other than freight is applicable for these items, even if other methods show up in the shopping cart.) We will contact you about the freight shipping charges. You are also welcome to contact us after you have placed your order. Someone needs to be at the delivery address to receive and sign for the product when delivery takes place. The freight company will call you to inform you of the delivery date so that you can plan accordingly. Provide as many phone numbers as possible to ensure that the shipping company can contact you and let you know when your order will be delivered. Be aware that the delivery driver is not responsible for bringing the product inside your home. Their responsibility is to deliver the product to the delivery address and move the freight to the end of the truck. They may or may not take it off the truck for you, but they will not bring the item inside your house, take it up stairs, place it for you, etc. You will need to have appropriate assistance and/or equipment available at delivery to unload it off the end of the truck and get the product inside your house. When you sign the delivery receipt, it is a legal contract that states that you received the product in acceptable condition. Always inspect your shipment before signing for it. It is best to completely remove your shipment from its containers regardless of the condition of the box, inspect it thoroughly, and if the cabinet is damaged refuse the shipment. This is very important, because once you have signed for your shipment it is your responsibility if it is damaged. If the Customer signs for the product in good condition and the product is damaged, only replacement parts can be purchased at the customer's expense and it is the customer's responsibility to install any replacement parts. Save your box and all packaging materials until you are certain that your cabinet and all accessories are in satisfactory condition. Replacement of accepted damaged products will only occur when funds are received from the shipping company after the claim has been filed. Normal claim time is 3 to 4 weeks. If the freight claim is denied and the customer does not inspect the cabinet, signing for it in good condition, the damaged product is the customer's responsibility. Inserts are usually shipped out via UPS or Fed-Ex and customarily do not arrive at the same time as your cabinet. Delivery on inserts can take up to two additional weeks for delivery due to the time it takes to create your insert. Remember to call us before signing for the product if you do not understand this delivery agreement.
top.
Return Policy:
nationalsew.com has a 30-day return policy for most items on our website*.
Simply call us for a Return Authorization number, and we will give you proper instruction on returning your purchase. Please do not try to return an item without a Return Authorization Number; we would be unable to process the return in a timely manner.
Unopened merchandise may be exchanged or refunded. "Unopened" means that the contents have not been removed from its packaging, and all factory seals are unbroken.
OPENED merchandise may be returned, but only for store credit and with a 15% restocking fee. Merchandise must be returned double boxed in its original factory carton (undamaged unit, Styrofoam, warranty card, instruction manual and all included accessories).
Shipping costs on the original purchase are non-refundable. Items originally purchased with Free Shipping will have standard ground shipping fees deducted from the refund.
Any item purchased with Home Source Financing qualifies for a store credit or an exchange of equal or greater value.
Extended Warranties are also non-refundable, and items with free Extended Warranties will have the retail price of the Extended Warranty deducted from the refund.
If you receive an item that is defective or incorrect, notify us to receive a Return Authorization number and arrange for a return or exchange. We will provide you with a return label when you receive your Return Authorization number. The customer must front the cost of shipping the item back to us, but when we inspect the item and verify that there was a mistake on our part or a manufacturer defect, we will reimburse the customer for the cost of shipping the return. We will also ship a replacement item to the customer at our expense.
Returned merchandise will be scrutinized for any use, damage, or missing accessories. You will be charged extra for any missing pieces.
Packages that are returned or refused will be refunded with a 15% restocking fee. Shipping charges will not be refunded. It is your responsibility to make sure you are available to receive the package and that all shipping information is correctly entered.
* The following items are non-returnable:
Any item without original packaging Computer software and/or hardware All sewing Cabinets, Cutting Tables, Sewing Chairs, Cabinet Inserts, and Quilting Table Extensions Dream World Sew Steady extension tables Extended Warranties All opened sewing machine parts or accessories (including, but not limited to, presser feet, cover plates, bobbins and bobbin cases) All notions All thread Any special order items All items requiring freight delivery
Regarding items such as bobbins, presser feet, or any other sewing accessory that requests you to provide your machine brand and model: If you do not provide us with your machine information, we are not responsible for part incompatibility. You may exchange resulting incompatible products, but the required shipping costs shall be at the customer's expense.
If you receive the correct item(s), without any defect, but you decide you simply do not like/want it, we will not grant refunds. However, we will perform an exchange for another item. The customer will be responsible for all shipping costs.
Note: Unless specifically stated as "commercial" or "industrial", the sewing machines and vacuums we sell are not intended for commercial use. Any commercial use of a home sewing machine or vacuum constitutes abuse of the product and will void all warranties, including the 30 day return policy. top.
Privacy Policy
This privacy notice discloses the customer privacy practices of nationalsew.com. This privacy notice applies solely to information collected by this web site. It will notify you of the following:
What personally identifiable information is collected from you through the web site, how it is used and with whom it may be shared. What choices are available to you regarding the use of your data. The security procedures in place to protect the use of your information. How you can correct any inaccuracies in the information.
Information Collection, Use, and Sharing,nationalsew.com. are the sole owners of the information collected on this site. We only have access to/collect information that you voluntarily give us via email or other direct contact from you. We will not sell or rent this information to anyone.
We will use your information to respond to you, regarding the reason you contacted us. We will not share your information with any third party outside of our organization, other than as necessary to fulfill your request, e.g. to ship an order.
Unless you ask us not to, we may contact you via email in the future to tell you about specials, new products or services, or changes to this privacy policy.
Your Access to and Control Over Information You may opt out of any future contacts from us at any time. You can do the following at any time by contacting us via the email address or phone number given on our website:
See what data we have about you, if any. Change/correct any data we have about you. Have us delete any data we have about you. Express any concern you have about our use of your data.
Security We take precautions to protect your information. When you submit sensitive information via the website, your information is protected both online and offline.
Wherever we collect sensitive information (such as credit card data), that information is encrypted and transmitted to us in a secure way. You can verify this by looking for a closed lock icon at the bottom of your web browser, or looking for "https" at the beginning of the address of the web page.
While we use encryption to protect sensitive information transmitted online, we also protect your information offline. Only employees who need the information to perform a specific job (for example, billing or customer service) are granted access to personally identifiable information. The computers/servers in which we store personally identifiable information are kept in a secure environment.
If you feel that we are not abiding by this privacy policy, you should contact us immediately via telephone at (619)474-1853 or click here to send email.
national33_sewing@yahoo.com